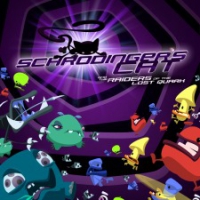 Développé par Italicpig et édité par team 17, Schrödinger's Cat and the Raiders of the Lost Quark (heureusement que le copier-coller existe !) est un jeu de plateforme sorti sur PS4 et disponible en téléchargement pour 9€
Le chaos s'est installé au zoo des particules où celles-ci se sont échappées et se sont installées aux 4 coins du complexe…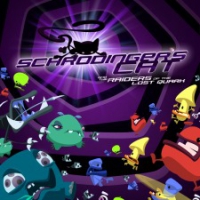 Développé par Italicpig et édité par team 17, Schrödinger's Cat and the Raiders of the Lost Quark (heureusement que le copier-coller existe !) est un jeu de plateforme sorti sur PS4 et disponible en téléchargement pour 9€
Le chaos s'est installé au zoo des particules où celles-ci se sont échappées et se sont installées aux 4 coins du complexe. Pour régler le situation le zoo fait appel à nous en la personne du chat de Schrödinger (allez sur wikipedia si vous ne connaissez pas la référence) afin de remettre les particules en place.
Durant 30 niveaux, dont des niveaux de "transitions" générés aléatoirement mais se ressemblant trop et étant moyennement intéressants. Pour avancer dans le jeu, il faut avoir recours à des quarks que l'on trouve dans les niveaux. 4 quarks sont disponibles et en assembler 3 nous donne accès à leurs pouvoirs.
3 quarks "déplacement" nous permettent de voler quelques instants , 3 quarks "destruction" nous permettent de casser certains sols, 3 quarks "protection" nous permettent de créer une bulle protectrice pour traverser certains passages gluants et mortels et 3 quarks "construction" nous permettent de générer des petites plateformes.
Mais en mélangeant ces quarks par 3, il est possible d'avoir au total 14 combinaisons (missile, parachute, piège…) plus ou moins utiles selon les moments mais permettant de progresser à la recherche des particules "charmés" pour accéder à la fin du jeu. Heureusement le menu pause affiche toute les combinaisons en cas d'oubli.
Chaque type de quarks est assigné à chacune des gâchettes de la manette, donc il est facile de faire les combinaisons. Malheureusement en remote-play sur PS Vita, les gâchettes L2/R2 étant assignées à des zones du pavé tactile arrière (pas toujours facilement accessibles), cela complique les choses car on perd en réactivité.
Comme je l'ai dit, il y a des niveaux de "transitions", et dans ceux-ci les quarks sont disponibles en nombre conséquent (tout comme les particules à recupérer), mais lors des autres niveaux (beaucoup plus intéressants et heureusement plus nombreux) seul la bonne quantité de quarks sont disponibles afin de pouvoir accéder à la fin du niveau tout en récupérant les particules échappées.
Avec son humour, ses références scientifiques, ses graphismes cartoon et surtout son gameplay atypique et ses énigmes, Schrödinger's Cat and the Raiders of the Lost Quark est fort agréable même si des ombres viennent obscurcir le tout, comme le coté répétitifs du jeu et le fait qu'il ne soit pas toujours facile de trouver son chemin (surtout pour refaire les niveaux déjà fais pour récupérer les particules oubliés).