Je n'ai pas l'habitude de parler de série sur le blog, principalement car je les regarde souvent avec du "retard". Mais cette fois, j'ai regardé The Rain peu après sa disponibilité sur Netflix (début mai) et comme cette série Danoise m'a beaucoup plu, voici mon avis (sans spoiler).
"Six ans après qu'un virus a décimé la majeure partie de la Scandinavie, un frère et une sœur – ayant vécus jusque là dans un bunker – intègrent un groupe de jeunes survivants en quête de sécurité et de réponses". Un pitch assez classique avec un virus, mais ici pas de trace de zombie !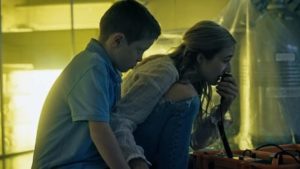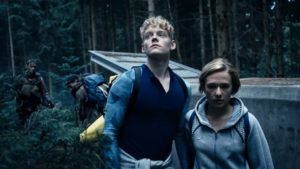 En effet, les personnes contaminées par la pluie (d'où le titre), mais aussi l'eau en général (rivières, flaques…) meurt plus ou moins rapidement (ce n'est pas très clair dans la série, surement selon la quantité d'eau en contact), sans devenir des mangeurs de chairs, mais en étant tout de même vecteur du virus et pouvant contaminer les autres.
The Rain est donc un drame post-apocalyptique ou les relations entre les différents personnages sont au cœur de la série.D'ailleurs les épisodes sont centrés sur un personnage en particulier pour en apprendre plus sur lui et sur ce qu'il s'est passé au moment de l'arrivé du virus.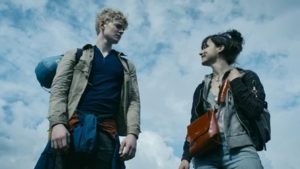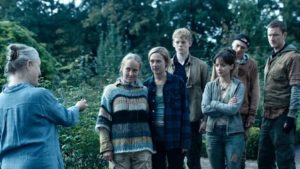 Bien évidement, on en apprendra plus sur le virus, mais pas trop, car la saison composée de 8 épisode de 40 minutes environ fini sans donner toutes les réponses et pour introduire une éventuelle seconde saison (rien n'est encore confirmé ou infirmé pour le moment).
Malgré quelques incohérences (ou peut-être incompréhensions de ma part) avec l'eau ou plutôt l'humidité parfois omniprésente qui ne propage pas le virus, The Rain m'a beaucoup plu (j'ai regardé les 8 épisodes en seulement 2 soirées) grâce notamment aux relations entre les personnages et l'absence de zombie et ses nombreuses surprises scénaristiques.