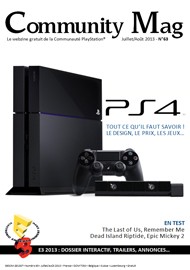 L'été est bien là et pour l'accompagner, le community mag d'été aussi. Le numéro de Juillet/Aout est sorti il y a peu avec le plein d'info pour les vacances (enfin pour ceux qui en ont, ce qui n'est pas mon cas…). Au menu, la PS4, l'E3 2013 des tests (dont le fameux The Last of Us) et les autres rubriques que vous connaissez…
Dans ce numéro :
EN COUVERTURE – PlayStation 4
Dossier – E3 2013 : le dossier interactif
TESTS – The Last of Us – Remember Me – Dead Islan Riptide – Epic Mickey 2
RETROSTATION – Pandemonium!
A lire à cette adresse : http://www.community-mag.com/issue/63/JuilletAout2013/