Remaster du jeu PS2 de 2006 (qui avait déjà eu un remaster sur PS3 en 2011) développé par Bluepoint (développeur de plusieurs remaster/collection sur PS3 et PS4 comme Uncharted: The Nathan Drake Collection), Shadow of the Colossus arrive sur PS4 à petit prix (moins de 40€) avec son statut de jeu culte.
Dans la peau de Wander sur son cheval nommé Agro, vous allez essayer de rendre la vie au corps d'une jeune femme que vous emmenez dans un temple ancien où une entité du nom de Dormin vous demande de détruire 16 colosses afin de rendre la vie à la jeune femme.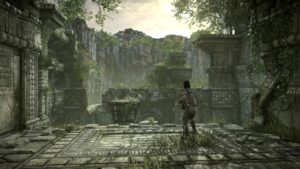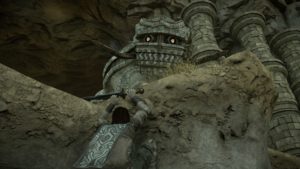 Première chose, graphiquement, le jeu est très très beau avec une remodélisation et des textures fines qui subliment les magnifiques décors et qui donnent au monde ouvert une dimension encore plus onirique. Bluepoint ont vraiment fait un bon travail sur ce remaster, aussi bien sur le monde aux paysages variés que sur les colosses immenses. On ressent vraiment bien que notre place n'est pas dans ce monde peuplé de ces colosses.
Et ces colosses ont évidement le cœur du jeu. afin de les vaincre, il faut trouver leurs points faibles (l'épée nous les indiquent plutôt facilement), et il faudra utiliser l'arc ou l'épée pour frapper ces points. Mais le plus dur (et surtout le gros point fort du jeu) et qu'il faut grimper sur les colosses pour atteindre ces points.
Il faut donc à chaque colosses trouver comment et où grimper pour arriver à notre but. Bien sûr chacun est différent aussi bien en terme de design que de la façon de grimper dessus (en s'aidant ou non du décors). Notre personnage n'étant qu'un "simple" humain, son endurance est mise à rude épreuve et il faut la surveiller sans arrêt sous peine de chute. Malheureusement, la variété des colosses n'empêche pas un léger sentiment de répétitivité (ne faites pas forcement es 16 à la suite !).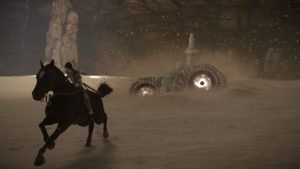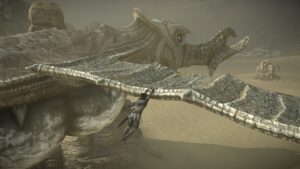 Même si la partie graphique a complètement été revu, la partie gameplay est la même qu'en 2006 avec un personnage se déplaçant avec un peu de lourdeur, et ayant des animations qui sont d'une autre époque, un cheval qui demande un peu de maîtrise, mais surtout une caméra à la ramasse ! C'est surtout lors de l'escalade des colosses qu'elle se montre gênante en se plaçant souvent de façon à ce que l'on ne voit presque rien. Heureusement on peut la contrôler, mais souvent à ce moment là, on a déjà d'autres choses à s'occuper…
Shadow of the Colossus sur PS4, sonne le retour d'un jeu culte qui est toujours aussi agréable. Par contre le joueur n'ayant pas connu l'époque PS2, auront surement du mal avec la caméra qui n'en fait qu'à sa tête. Dans tout les cas, que vous l'ayez déjà fait sur PS2 ou PS3 ou non, je ne peux que conseiller ce jeu.