Jin Sakai est de retour sur PS4 et PS5 dans une version Director's Cut. Si le contenu du jeu comprend évidement l'intégralité de ce que l'on avait sur PS4, je vais plutôt m'attarder sur le DLC inclus dans cette version (testé sur PS5).
On quitte donc Tsushima pour aller sur une petite île a coté au doux nom d'Iki. Pas si petite non plus, car elle faut presque le même taille que la partie sud de l'île Tsushima où se déroule le premier acte de l'histoire.
L'île d'Iki n'est pas inconnue de Jin Sakai, car c'est là que son père a été tué, ce sera donc l'occasion pour lui de revivre des évènements passés en lien avec cela, tout en combattant la tribu Mongole de l'Aigle. L'histoire de ce DLC s'intègre parfaitement (l'accès à l'île s'ouvre à partir du second acte si vous faites le jeu d'origine) et ajoute de la profondeur à l'histoire de notre protagoniste.
Ayant eu le platine du jeu sur PS4, je n'ai pas refait une partie complète, mais j'ai pu importer ma sauvegarde pour aller directement sur Iki. D'ailleurs si vous êtes dans ce cas, sachez que cela débloque le platine sur PS5 automatiquement.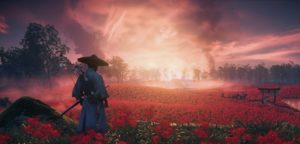 Cette version PS5 de Ghost of Tsushima est encore plus belle que la version PS4 (qui était déjà superbe), mais ce sont plus les nouveautés qui sont importantes comme le lock de la caméra sur les ennemis (même si en s'y étant habitué je ne m'en suis peu servi), et surtout la prise en charge de la dualsense. Même si ce n'est pas aussi présent que dans d'autres jeux, c'est toujours agréable !
Le contenu n'est pas en reste avec son lot de missions principales, mais aussi secondaires (il y a d'ailleurs de nouveaux types de missions secondaires qui apportent un peu de fraicheur). Le tout pour au moins 5 heures de jeu, voir un peu plus si vous voulez compléter le dlc à 100%.
Bref, si vous avez aimer le jeu sur PS4, je vous conseil le DLC (pas forcement le jeu complet qui est forcement plus cher). et si vous n'avez jamais touché à Ghost of Tsushima, c'est le moment !