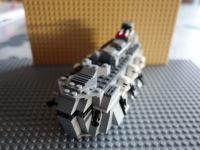 After my MOC based on 2 official ITT sets #75078, I tried a new MOC of the ITT, but now based on 3 official ITT sets #75078.
LXF file for LDD (Lego Digital Designer) : http://abyssahx.fr/files/ITT_abyssahx_3sets.zip
Same rule as the first Moc, used only parts of 75078 sets (only 6 parts not used – guns not included).
This 3 sets version is based on the 2 sets version, but is a little longer and seems more massive.
What I have done :
3 places for StormTroopers instead of 2,
moving front cannon (horizontally only),
place inside 3 StormTroopers (4 with touching helmets),
place for a pilot (minifig comming from an advent calendar),
a door to access inside (but a fake door…),
ammo boxes place in back of the ITT,
possibility to place 2 to 4 ammo boxes on the roof,
LXF file for LDD (Lego Digital Designer) : http://abyssahx.fr/files/ITT_abyssahx_3sets.zip