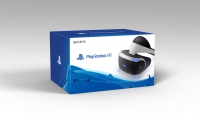 Bien que la date précise ne soit pas encore communiquée, le Playstation VR sortira en octobre. Et son prix est aussi maintenant connu, et il sera de 400€ (enfin 399,99€…). Ce n'est évidemment pas donné, mais cela reste moins cher que ses concurrents.
Plus d'information ci-dessous :
Plus de 230 développeurs et éditeurs travaillent actuellement sur des titres PS VR, aussi bien de toutes petites équipes indépendantes que des équipes d'éditeurs confirmés, tels que 2K Games, Electronic Arts Inc. et Ubisoft Entertainment.
Les titres en développement pour PS VR chez ces développeurs et éditeurs, ainsi que chez SCE Worldwide Studios (SCE WWS) sont aujourd'hui au nombre de 160 et plus de 50 d'entre eux sont attendus pour la fin de cette année dont, Eagle Flight (Ubisoft Entertainment), EVE: Valkyrie (CCP Games), Headmaster (Frame Interactive), Rez Infinite (Enhance Games), Wayward Sky (Uber Entertainment), RIGS: Mechanized Combat League, Tumble VR, Until Dawn: Rush of Blood et VR Worlds (SCE WWS).
DICE et Lucasfilm travaillent également sur une toute nouvelle expérience de jeu Star Wars™ Battlefront™ (Electronic Arts Inc.) uniquement pour le PS VR. THE PLAYROOM VR*3 de SCE WWS sera également disponible en téléchargement gratuit depuis le PlayStation®Store pour tous les possesseurs du PS VR, et ce dès sa sortie.